Accessories for Acoustic Systems
Increase coverage, add flexibility and maximize the return on investment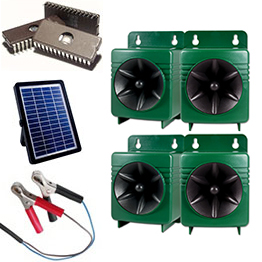 We offer a wide range of accessories for our acoustic bird scarers. Add extensions speakers to your original system to increase the coverage area or add a solar charger for fully-independent operation off-the-grid.
Bird-X-Peller Sound Options
Bird-X-Peller has an extensive library of local bird sounds available which we use to customize your bio-acoustic sound system. Simply let us know what birds are causing problems and we will supply and fit the perfect sound to your system. Sound options include alarm and distress bird cries, raptor or predator bird calls and general harassment sounds.