12V Battery-Powered Bioacoustic Systems
Now with Bird-X-Peller's new Battery Guard Technology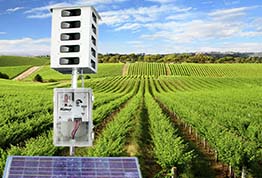 Bird-X-Pellers 12V battery-powered bioacoustic systems use bird's own alarm and distress calls as well as bird predator sounds and sound harrasments to create a danger or 'NO-GO' zone. The new 12V systems come with battery clips and Bird-X-Pellers own battery guard technology. The battery power status is shown via built-in LED: GREEN = Power OK, RED = Battery LOW, recharge required or battery faulty. All our devices have adjustable features such as intermittent sound, different volume levels, automatic day/ night operation or random modes. We also have solar chargers available for fully independent off-grid operation.
Custom-made Solutions by Bird-X-Peller Australia & New Zealand
Bird-X-Peller offers fully-customized bio-acoustic systems. We can program multiple sound opptions to perfectly suit each client's bird pest situation. Bird-X-Peller supply a complete range of accessories such as extension speakers, battery clips, solar chargers and bird sound chips. Please contact us if you have special requirements or would like to dicuss your needs with one of our experts.