BroadBand PRO 12V with Battery Guard
12V Battery-Powered Sonic and Ultrasonic Bird Deterrent System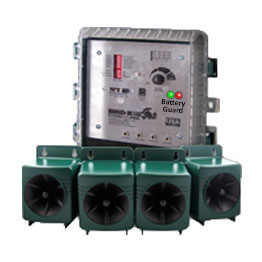 Sonic and ultrasonic acoustic system deters pest birds with constantly changing sonic alarm and distress bird sounds, bird predator calls, harassment and high-frequency ultrasonic sounds.
The BBP 12V system comes with battery clips and built-in battery guard technology. The power status is shown via built-in LED: GREEN = Power OK, RED = Battery LOW, recharge required or battery faulty.
Solar chargers are also available for fully independent off-grid operation.
Uses: Warehouses, hangars, sheds, signs, boats, roof tops and all other places where mains power is not available.