Bird-X-Peller PRO 12V with Battery Guard
12V Battery-Powered Sonic Bird Deterrent System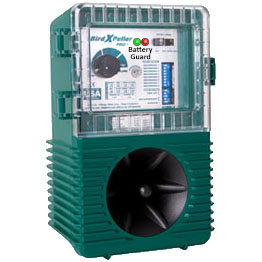 Sonic system scares pest birds away with constantly changing sonic alarm and distress bird sounds, bird predator calls or harassment sounds. This unit comes with 12V battery clips and battery guard technology. The power status is shown via built-in LED: GREEN = Power OK, RED = Battery LOW, recharge required or battery faulty.
Solar chargers are also available for fully independent off-grid operation.
Uses: Boats, marinas, orchards, farmfields, airfields and all other places where mains power is not available.