Remote-Controlled Bioacoustic Systems
Convenience and effectiveness: Bird-X-Peller's SMS and GPS-powered remote-controlled bioacoustic systems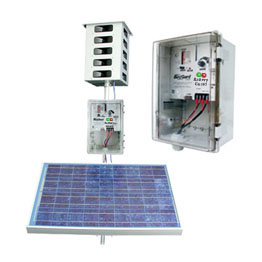 Bird-X-Peller's SMS and GPS-enabled remote-controlled bioacoustic systems combine convenience with proven effective bird control technology. Bioacoustic bird deterrent systems use bird's own alarm and distress bird calls as well as bird predator sounds and sound harrasments. Wireless technology now allows you to control these units systems remotely via smartphone, tablet or computer. You are always in control: set ON and OFF times, monitor power level and track your system via GPS. Bird-X-Peller's remote controlled systems are ideal for all airports and airfields, vineyards, orchards and industrial buidings.
Cutting Edge Technology: 3G Wireless, Remote-Control and GPS enabled
Our new remote-controlled bioacoustic systems use a built-in 3G transmitter to communicate with Bird-X-Peller's control application. Simply log on to your account using your smart phone, tablet or PC. Turn your devices ON and OFF, program operating times and monitor power and battery level. We will notify you by email and SMS if your system is running out of power. All devices include a GPS geomapping feature to track the location. So you always know where your system is installed. Multiple remote-controlled systems can be combined for use in very large areas such as airports and airfields or large vineyards.