Bird Management for Industry
Bird Control for Commercial and Industrial Environments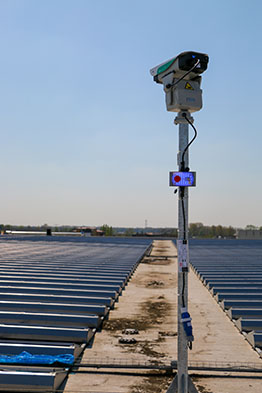 In commercial and industrial environments pest birds such as Pigeons, Gulls or Sparrows can cause a number of serious problems including damage to property and infrastructure, food safety problems, occupational health and safety (OHS) issues as well as safety risks near airports and aerodromes.
Keeping birds away from large buildings, warehouses, hangars, or factories with conventional bird proofing techniques (netting, bird spikes, etc) is often either not feasible or economical.
Instead, bird management programs involving a combination of multiples bird deterrent techniques are used to create an unfavourable environment for the birds.
Professional bird management should start with an initial assessment followed by the removal of bird nests and an initial clean-up. Acoustic (bio-acoustic) bird control systems can then be installed. Acoustic bird control systems have successfully been used since the early 1960s. These systems emit alarm and distress bird calls as well as calls of bird of prey to create a danger and "No-Go" zone for the birds. This is a very cost-effective way to keep birds out. For serious infestations where the birds have been nesting or there is a food source available to the birds further bird control measures are required.
AVIX bird control lasers are the perfect addition to conventional bird management programs.
AVIX Autonomic Mark II manufactured by Bird Control Group is a professional commercial-grade bird control laser. It emits a wide green laser beam which constantly moves along pre-programmed bird control zones (areas). Birds associate the moving laser projection with a physical threat and leave the area. The effect can be compared to a fast-moving car traveling on an open road. Birds roosting on the road will suddenly fly away when the car approaches to avoid a collision.
Commercial bird lasers have several advantages over conventional bird control methods:
- Birds do not seem to habituate to the moving laser beam because the laser is perceived as a physical danger or threat.
- After an initial set up the laser operates fully autonomously. No major maintenance is required.
- The laser can cover small, large, and difficult-to-reach areas.
- Environmentally friendly compared to the lethal bird control methods.
- Non-lethal, no harm to birds.
- 24/7 continuous bird repellent.
About Bird Control Group
Bird Control Group provides innovative solutions to keep birds at a distance from commercial activities, ensuring a safer working environment and a highly effective way of damage prevention. Bird Control Group serves customers in aviation, agriculture, industry, oil & gas, recreation, and real estate. Customers include Shell, Total, and Syngenta. Bird Control Group operates in more than 90 countries worldwide with offices in the United States and the Netherlands.
About Bird-X-Peller Australia & New Zealand
Bird-X-Peller Australia & New Zealand has many years of experience in professional bird management and can advise clients on successful bird control programs. Our clients include small to very large businesses in Australia, New Zealand and Oceania. Bird-X-Peller offers free, no-obligation assessments and quotes.