Bird Repellent Sound Systems
Scare birds away with multiple sound options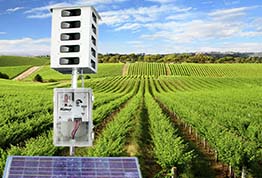 Bioacoustic bird deterrent systems use bird's own alarm and distress bird calls as well as bird predator sounds and sound harrasments to create a danger or 'NO-GO' zone. Our devices have adjustable features such as intermittent sound, different volume levels, automatic day/ night operation or random modes. Most systems can be either mains, solar or battery-powered. They are frequently used in open outdoor areas such as airfields, orchards, vineyards, on boats, roof tops or inside warehouses, hangars, sheds and other buildings.
All our battery and solar-powered systems now come with our Battery Guard technology installed. Check out our 12V battery guard systems for more information. Also available is our new RC range which offers advanced features including remote-controlled operation modes, asset tracking and battery monitoring.
Custom-made Solutions by Bird-X-Peller Australia & New Zealand
Bird-X-Peller offers fully-customized bio-acoustic systems. We can program multiple sound options to perfectly suit each client's bird pest situation. See our Australian bird sound information here.
Bird-X-Peller also supply a complete range of accessories such as extension speakers, battery clips, solar chargers and exchangeable bird sound chips.
Please contact us if you have special requirements or would like to dicuss your needs with one of our experts.