Bird Scare Guns
Minimize bird damage in vineyards and orchards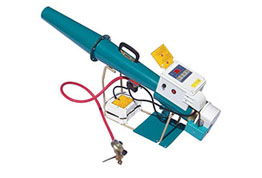 Minimize crop loss and bird damage with an automatic propane gas cannons. A single unit can protect up to 6,000sqm. The time between shots can be adjusted and the rotary tripod is included with each LPG cannon. Ideal in conjunction with bio-acoustic bird scarers and visual bird deterrents. A cambination of these maximizes the effectiveness in the field.
Fully-automatic features
Our automatic gas cannon has fully adjustable features such as single or double shot, configurable shot delay, random operation mode and battery charge indication. The built-in photocell allows automatic day/ night operation.