Bird Control
Learn more about our bird control solutions.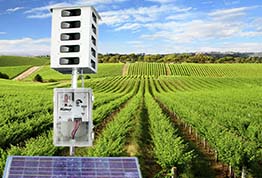 Bird-X-Peller supplies the best in Electronic Bird and Animal Control systems to:
Viticulturists, Horticulturists, Agriculturists, Pest Control Operators (PCO), Factory & Warehouse Owners, Shopping Centre Facility Managers, Schools, Universities & Colleges, Food Processors, Council Waste Stations, Lakes, Swimming Pools, Domestic Properties
What Can Bird-X-Peller Do For You?
- Provide answers to troubling OH&S problems with Birds and Animals
- Provide excellent solutions to your problems.
- Provide service beyond expectations and experience.
- Provide equipment that care-takes your property by repelling birds and animals all day and all night.
- Reduce costly cleaning and health risks to your staff.
- Make your area "A NO GO ZONE FOR BIRDS & PESKY ANIMALS".