Super Bird-X-Peller PRO 12V with Battery Guard
12V Battery-Powered Sonic Bird Deterrent System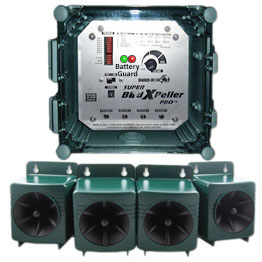 This sonic scalable system scares away pest birds away changing alarm and distress bird sounds, bird predator calls or harassment sounds. The Super Bird-X-Peller PRO is a fully automatic system. It includes a control box and four speakers. The system is scalable and supports a maximum of eight speakers.
This unit comes with 12V battery clips and built-in battery guard technology. The power status is shown via built-in LED: GREEN = Power OK, RED = Battery LOW, recharge required or battery faulty.
Solar chargers are also available for fully independent off-grid operation.
Uses: Vineyards, orchards, farmfields, airfields, marinas and all other places where mains power is not available.